A Hollywood Beach Hotel
Rising 43 floors above the Intracoastal, this stylish Hollywood Beach retreat was designed for sophisticated travelers seeking an immersive experience. From spending the day swimming, sunning, and playing tennis on the 6th floor, to gathering under the stars for al fresco movies, dining, and drinks overlooking the ocean, guests will revel in the full Hyde Beach House experience.
Property-Wide Amenities
1, 2, and 3 bedroom suites
Fully equipped chef-quality kitchens with stainless appliances and granite countertops
24 Hour front desk
24 Hour security
24 Hour valet parking
Washer/Dryer
Jacuzzi
Complimentary Wi-Fi
Restaurant/Bar with poolside service
All-day in-room dining
Outdoor pool and cabanas
State-of-the-art fitness center
Outdoor tennis court
Racquetball court
Basketball court
Beach club access (Beach lounge chairs, towels & umbrella)
Outdoor movie theater
Curated art collection
Concierge services
Daily housekeeping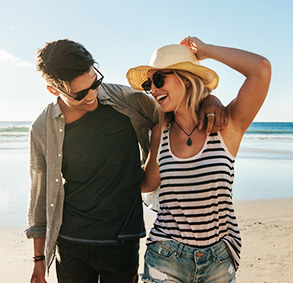 I Prefer Rewards
Hyde Beach House has partnered with I Prefer to offer you the very best in hotel rewards. I Prefer members receive instant benefits with every stay, including free Wi-Fi, priority early check-in and late check-out, room upgrades, and points redeemable for nights, hotel activities, meals and more. Join for free online today!
Frequently Asked Questions
What are the cleanliness standards at your hotel? Are you taking extra precautions?
The health and well-being of our guests and employees is of the utmost importance to us, and Hyde Beach House proudly adheres to the highest standards of hotel cleanliness and sanitization. Click here to learn more about the details of our SoClean program and what it means for your stay.
Arrival and Departure
Check-In: 4:00 pm
Check-Out: 11:00 am
Pets
Hyde Beach House is a pet-free resort. Only service animals are accepted.
Rooms
We have over 200 one-, two-, three- and four-bedroom suites, all fully appointed with stocked gourmet kitchen, washer and dryer, and full-size balcony.
Are you affiliated with any hotel brands?
We are independently owned by Sotherly Hotels and affiliated with Preferred Hotels & Resort.
Pools
2 pools. One on the 6th floor pool desk and 1 on the ground level overlooking the Intracoastal.
Restaurants
Costera Sunset Bar & Grill, open daily poolside on the 6th floor, offers lunch and dinner.
Parking
0-3 Hours $20.00 plus tax
3-6 Hours $30.00 plus tax
6-24 Hours $38.00 plus tax
Overnight $38.00 plus tax
Staying 1 to 7 days $38.00 plus tax per night per vehicle
Staying 8 to 14 days $33.00 plus tax per night per vehicle
Staying 15 to 29 days $28.00 plus tax per night per vehicle
Staying 30 + days $200.00 per month per vehicle
Public Transportation
Guests of Hyde Beach House traveling to/from the airport are encouraged to contact Super Shuttle, Uber/Lyft, or a local taxi company to arrange a ride.
Do we offer a rewards program?
We participate in the iPrefer Rewards Program through Preferred Hotels & Resorts.
Cancellations
The Hyde Beach House cancellation policies vary by reservation type. Generally, guests must cancel by 6 pm local hotel time 72 hours prior to arrival to avoid a 1-night room and tax charge. If your reservation was booked as an Advance Purchase or similar offer, however, it may be non-refundable regardless of your cancellation timeline. Please refer to your confirmation email or contact the Hyde Beach House to confirm the cancellation policy for your specific reservation.
Deposits
A credit card is required to guarantee a reservation. If an Advance Purchase Rate is booked, a full, non-refundable deposit is required at the time of booking.
Party Policy
Hyde Beach House does not allow parties in guest rooms. Please see the full party policy here.
Smoking
Hyde Beach House is a non-smoking hotel. Any guests caught smoking on the premises will be charged a penalty as well as a cleaning fee.
Beach
Hyde Beach House is located across the street from the Atlantic Ocean on Hollywood Beach. Complimentary beach chairs and umbrellas are available to Hyde guests on a first-come, first-served basis and are subject to availability.
Fitness Center
Hyde's state-of-the-art fitness center is located on the 6th floor and is open 24 hours a day for guests. No personal trainer on duty.
Resort Amenity Fee
Daily Resort Amenity Fee of 25 USD per room per night plus 13% tax is applied at the time of check-in. The resort amenities include*
Wireless internet
Local and toll-free calls
24-hour access to the business center
Full access to the PressReader app
2 beach chairs, 1 umbrella, and 4 beach towels
6th level pool access includes towels, cabanas, and chaise lounges (from sunrise to sunset)
24-hour access to our state-of-the-art fitness center
Access to the tennis court, basketball and racquetball. (Appointment only and based upon availability).
What accessibility features are provided at the Hyde?
The hotel provides accessible guest rooms with entry/exit passages, bedroom passages, and bathroom passages with at least 32 inches (812 mm) of clearance.

Additionally, the following public areas are accessible to guests with physical limitations via either flat or ramp access: business center, valet parking, concierge desk, elevators, exercise facility, restaurant, meeting rooms, public entrance, lobby/registration desk.

Other accessibility features available at the hotel are as follows:
Closed captioning on televisions
Bathroom grab bars
Roll-in shower
An accessible (level or ramp) public entrance with clear routes to the hotel's restaurant, business center, meeting rooms, exercise facility, and swimming pool
Audible, visual (strobe), and vibrating alarms
Elevators with audible alerts, Braille buttons, and lowered buttons
Lowered emergency evacuation instructions, light switches, and thermostat controls
Swimming pool hoist for pool access
Accessible parking (via valet)
All service/support animals are welcome.